iPhone Screenshots
iPad Screenshots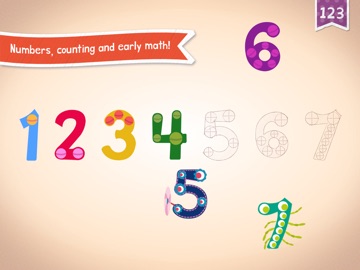 Beschreibung
Prepare your child for Preschool, Kindergarten, first grade, and beyond with this interactive educational app from Originator - Endless Learning Academy! Kids will learn across a broad and growing curriculum all while having FUN with the help of the adorable Endless monsters!
Based on classroom-proven learning techniques developed by Originator and now used by tens of millions of children, your child will be engaged and delighted while getting a head start in school.
Endless Learning Academy includes thousands of interactive learning activities covering:
- ABC's
- Reading
- Vocabulary
- Phonics
- Spelling
- 123's
- Quantity
- Counting
- Sequences
- Arithmetic
- Music
- Spanish
- …and much more
In addition to activity-based learning, Endless Learning Academy includes hours of video lessons on hundreds of subjects to deepen your child's early learning. The video lessons include:
- Time & duration (e.g. morning, before, after)
- Colors & shapes (e.g. red, blue, circle)
- Size & weight (e.g. big, small, tall)
- Direction & orientation (e.g. top, bottom, over, under)
- Physical states & conditions (e.g. on, off, fast, slow)
- Actions (e.g. throw, catch, sit, stand)
- Anatomy (e.g. eyes, ears, hands, feet)
- Human senses & functions (e.g. sleep, smell, hear, yawn)
- Hobbies (e.g. bicycling, climbing, baking, dancing)
- Social emotions (e.g. share, help, determination, friendship)
- Feelings (e.g. brave, curious, excited, proud)
- Weather & seasons (e.g. rain, summer, thunder, wind)
- Geography & places (e.g. farm, garden, lake)
- Plants & animals (e.g. bird, elephant, fruit, flower)
- Physical science (e.g. sun, stars)
FEATURES:
- Thousands of interactive puzzles let your child see, hear, and feel concepts come to life.
- Thousands of delightful animations reinforce basic concepts, deeper understanding, and subtle nuances.
- 7-day free trial gives you unlimited access to all activities and lessons in the app before paying. A limited version of the app is available even for non-subscribers.
- 3D Touch on enabled iPhones makes letters and words react in an extra special way!
- Designed and developed for children of ages 2-6.
- 100% free of advertisements and offers.
- Learn on the go. Offline mode gives you access to all activities and lessons even when the device is not connected to the internet.
- Endless Learning Academy was designed with your children in mind. There are no high scores, failures, limits or stress. Your children can interact with the app at their own pace.
** NOTE: In online mode, the app must be connected to the internet and have ample disk space to play most lessons and activities
SUBSCRIPTION DETAILS:
Endless Learning Academy is a subscription service that gives total access to all lessons and activities, plus new material as it's added!
- Subscribe to Endless Learning Academy for only $6.99/month. A lifetime subscription is also available for a discounted one-time fee.
- Your subscription gives you complete access to the app on Apple TV.
- You can cancel the subscription renewal online anytime. There is no cancellation fee.
- Payment will be charged to your Apple iTunes Account after the 7-day free trial or at the confirmation of your purchase of the lifetime subscription.
- You can use the subscription on any device registered with your Apple ID.
- Subscriptions automatically renew unless auto-renew is turned off at least 24-hours before the end of the current active period.
- Subscriptions can be managed by going to the user's App Store Account Settings.
Privacy Policy: http://www.originatorkids.com/corporate/privacypolicy
Terms of Use: http://www.originatorkids.com/corporate/termsofuse_ela
Audio technology in music activity by Superpowered.
Neue Funktionen von Version 7.6
Even though the holidays are over, the fun never ends in Endless Learning Academy. Happy New Year!
Informationen
Geräte
iPhone 11 Pro Max, iPad Air 2 (Cellular), iPad mini Retina (Cellular), iPad Pro (11"), iPad (5. Generation) Wi-Fi, iPad (6. Generation) Wi-Fi, iPod touch (6. Generation), iPad Pro (11") Wi-Fi + Cellular, iPad (6. Generation) Wi-Fi + Cellular, iPad Pro (12,9", 3. Generation), iPad (5. Generation) Wi-Fi + Cellular, iPad mini (5. Generation) Wi-Fi + Cellular, iPad mini (5. Generation), iPad Pro, iPad mini 3, iPad mini 4 (Cellular), iPad mini 4, iPhone 11, iPod touch (7. Generation), iPad mini 3 (Cellular), iPad Air, iPad Air 2, iPad Pro (12,9", 2. Generation), iPad Pro (Cellular), iPad Pro (9,7 Zoll) (Cellular), iPad Pro (10,5") Wi-Fi + Cellular, iPad Pro (9,7 Zoll), iPad mini Retina, iPad Air (Cellular), iPad Air (3. Generation) Wi-Fi + Cellular, iPhone 6 Plus, iPad Air (3. Generation), iPad Pro (10,5"), iPad Pro (12,9", 2. Generation) Wi-Fi + Cellular, iPhone 6, iPhone XR, iPhone XS, iPhone 6s, iPhone SE, iPhone 7 Plus, iPhone 6s Plus, iPhone 5s, iPhone X, iPhone 8, iPhone XS Max, iPhone 8 Plus, iPhone 7, iPhone 5, iPad (7. Generation) Wi-Fi, iPhone 5c, iPad (7. Generation) Wi-Fi + Cellular, iPhone 11 Pro, iPad Pro (12,9", 3. Generation) Wi-Fi + Cellular